In this web page, we will explain what the called Web Marketing SEO service is, and what it is used for.
"Serch Engine Optimization" → SEO.
What's this.
Premise: if you already have a site, SEO must be preceded by an SEO Audit.
SEO is the observance of the multiple rules of Search Engines (each has its own).
This respect leads to the OPTIMIZATION of the website, which has the consequence of being "rewarded" by appearing before other sites in the list of results (SERP) for certain searches (Keywords).
These rules can be valid for many search engines (sharing) or even for one in particular, for example: if I want to be "rewarded" only by Yandex (Russia), I will follow its guidelines; if these guidelines are contrary to those of Google, my site on Google will be penalized. But if my potential customers only use Yandex I won't have to worry about how I am rated by Google.
Why have an SEO strategy.
Because it is the indispensable hard core for any activity that foresees a web presence. This activity is customizable, so it fits and works both for the small local business and for the large local and international company.
Who is able to implement it.
Professionals (freelancers) or companies (web agency). Attention to those who propose themselves as SEO when they have specific qualifications from other branches of Web marketing, for example a Graphic Designer who will make you a super site and who will also take care of SEO. Be wary because to date, the complexity of each individual activity requires specific and dedicated professionals …
Who is it for? To all! 😆
Timing
(How long does it take for the search engine to reward me).
This is an age-old SEO problem, because there is no standard time.
The results are "victims" of many factors, so give yourself a time frame, for example: from 3 to 6 months to see the first results.
Timing of SEO, from Google Analytics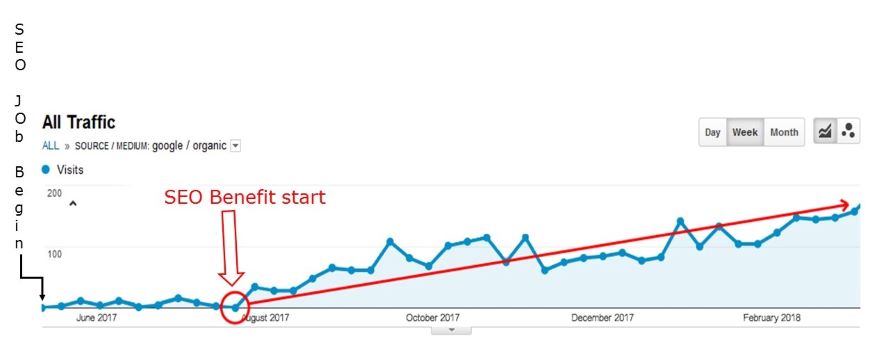 How much budget is needed.
We proceed with an estimate of the hours to be employed to be multiplied by the average hourly rate of professionals in the sector.
So we proceed with a quote, and based on the hours worked we determine the budget. It should be remembered, however, that SEO is not a service with a classic start and end of work, it is a digital marketing path that you undertake, so normally a quote consists of 2 main parts: cost of the initial phase + cost of the maintenance phase and / or adjustment.
Convinced? Contact us! (always without obligation, eh !)
What is needed.
For a successful SEO you need:
a lot of mutual trust
a clear objective of the client
a strategy
and the patience to wait for the first results.
I remember that for immediate results there are other tools, so don't panic!
Then there is a phase where the first results obtained are maintained and possibly strengthened, but it could also be that one or more elements of the strategy must be modified.
This does not mean that you have run into mistakes or an incompetent professional! In fact, on medium and long-term projects, contingencies are on the agenda: think of the change in a law that (for example) bans bank transfer payments for e-commerce purchases.
It will be necessary to change all those parts of the site that are affected by this provision.
Fault of the Web Agency that had not foreseen this law 2 years before? Of course not!
Here, in the second item of the estimate, there will be an annual fee for checking and maintaining what has been done, which varies according to the complexity of the project: a 10-page site is not the same as a 100-page one, just as a monolingual site is not the same thing as one with 2 or more languages.
How do you measure the success of such an economic effort (ROI)?
By providing reports for the ranking, to show the status of the positioning of the keywords chosen on the search engines in which it was decided to be present.
With traffic analysis reports to find out: – number of visitors, – time spent by them on the site and in particular on which pages, – but above all interaction with the site!
If Call-to-Action has been set up correctly, these interactions will be measured:
no. of downloads performed
items placed in the shopping cart (e-commerce)
click to other pages of our site
request via email or form, for further information or an appointment with a technician / sales person / other company figure and so on.
A brief summary.
Pro:
Measurement and control of every aspect
Medium and long term benefits = low average annual cost.
Visibility on multiple search engines with the same action / strategy (NB: not with the same results though!).
No contraindications with other Digital and Web Marketing activities, indeed, Socials activities help SEO, but also a good visibility on search engines helps activities on Social Networks!
Cons:
Huge initial investment against almost non-existent results
Setting phase and study of very demanding strategy and tactics
Influence on other marketting activities already started
Regular checks with necessary maintenance and improvement, under penalty of loss of what has been painstakingly obtained!