---
For those born in the digital age, here's a brief introduction of what a postcard is.
The more experienced among you can feel free to skip ahead 😊.
Once upon a time, when you went on holiday, especially to an exotic location, you would send a postcard to friends and relatives.
On the front, there would be a photo of the place: a monument, a beach, a panorama.
On the back, something like "wish you were here", or "we're having a lovely time" would be scrawled and signed by the sender long with the recipient's address and the postage stamp. Rebellious types wouldn't add the stamp themselves, so the lucky recipient of the postcard would get a small fine! The good old days! You may be muttering to yourself, with a smile on your face.
But we disagree wholeheartedly!
We've been re-evaluating postcards, and decided they're a truly effective tool for digital marketing!
DPM: Direct postcards marketing tool for B2C.
In fact, you can use our postcards as a tool for brand campaigns, to spread the word about your services or share your products through our B2C service.
How does all this happen?
You buy credits from us, which you can even gift or resell to customers or your sales team.
Once customers (or members of your sales team) have downloaded our App and uploaded the credits received, they'll be able to create postcards to send to friends and/or relatives in only a few simple steps, with pictures of selfies, pleasant landscapes or monuments shots.
And so, your brand will make its way around the world along with their greeting, on the back of a postcard!
You will have created a personalised banner with maximum creative freedom when configuring your digital marketing campaign in your account.
(The banner is not visible to the users of the App when creating their postcard).
Can't resist?
Want to find out more now? Contact us for information and quotes.
For B2B instead… we can do even better!
If B2B is what you're after, you won't need to download our App.
Once credits have been purchased and the main postcard elements have been set up, it will be created in post-production by our technicians and graphic designers,.
The elements to be sent to us are:
– the company logo,
– the Payoff and / or the call to action,
– the QR-Code(*) to be scanned (thanks to the call-to-action) to open the landing page,
– and obviously the message.
The latter is also customisable, to further strengthen the value of the link with the recipient.
Now for the essentials: your landing page – which could be an e-commerce site, could allow for a discount coupon to be downloaded, contain details of special offers or whatever makes most sense to you – can be visited in the future by every person who has their hands on a valuable postcard…
It is made of paper, it is durable (as opposed to virtual), and it does not "live" exclusively in the receiver's device!
Finally, the fourth element should not be underestimated: your message.
Customisable to such an extent that it can be different for each postcard!
It is this level of personalisation that makes the postcard seem like it was hand-crafted for the receiver with care, therefore making it something truly special!
And it's long-lasting, meaning it's visible to other people in the family or office.
We'll emphasise this one last time: it's real enough to hold in your hand.
(*) NOTE: or more easily you can send us the URL(s), then we will generate the QR-Code(s).
Let's summarise the strengths of your branded digital postcard with digital marketing elements:
• Easy to create and to send thanks to the APP (B2C);
• Less cold than an e-mail;
• 4 customisable areas:
4.1 Business Logo,
4.2 message (even handwritten),
4.3 banner with payoff and/or call-to action to scan the QR Code,
and 4.4 the QR Code!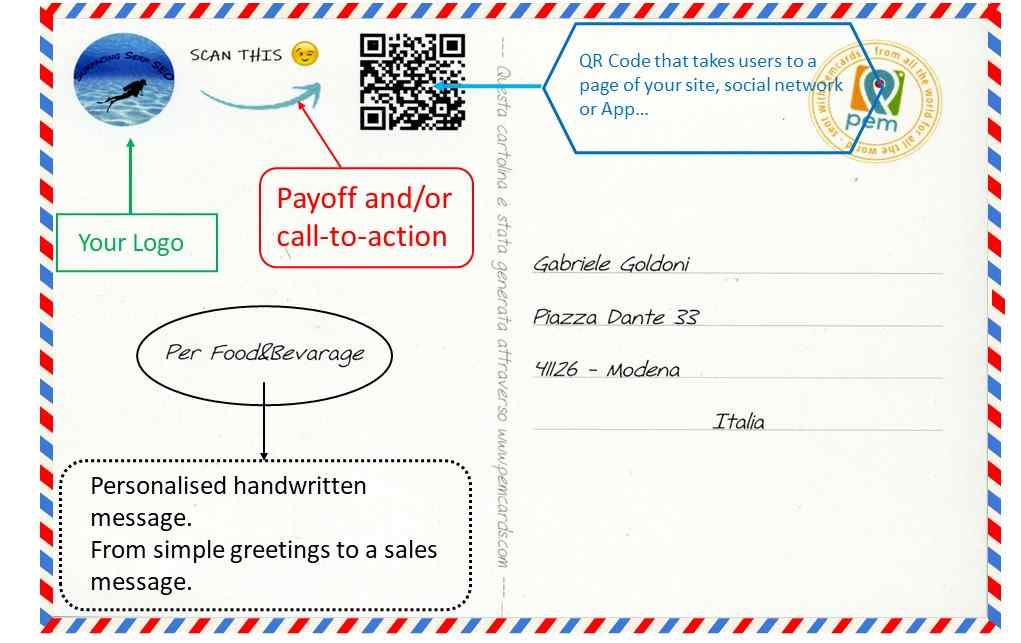 Long-lasting: it won't end up in a "Spam" folder or in a queue behind hundreds of other mail messages, it's "opened" and stored, and even if it doesn't bear fruit immediately, like a seed, over time it may sprout and provide its benefits.
As mentioned, it is not seen by the recipient alone, in fact, as the recipient is likely to keep it, it's seen by at least 4.69 other people! (that's what our data says);
Low-cost: the price of each item purchased includes the entire production cycle and postage to any destination, worldwide;
Environmentally friendly: the entire production cycle is based on eco-sustainability (and for every 1000 postcards sent, we plant 1 tree!).
Don't waste another second!
Contact us and start using our DPM: Direct Postcard Marketing tool for your business!