Google is adding new attributes to always better supply searchers to find helpful infos.
After the new 3 attributes for restaurants, now four new attributes have started appearing in business's knowledge panels:
Online Care
Online Appointment
Online Estimates
Online Classes
Businesses can add these, and any other existing attributes, to their GMB profile and Google may show them in search results for relevant queries.
How to Add Attributes to Your Google My Business Listing
Businesses can the new attributes, or existing attributes, to their Google My Business listing by following the steps below:

Sign in to your Google My Business.
Open the location you'd like to manage.
From the menu, click "Info".
Find "Add Attributes" and click "Edit".
Or you can search for the attribute you want to add, scrolling through all the available options for your business.
When you're finished updating your attributes, click "Apply".
Note that all businesses do not have access to all attributes. Available attributes vary according to the category of business.
For example, a pizza delivery place is unlikely to be able to add attributes such as "online care" and "online classes" to their GMB listing.

If your business is one that would have any of the four new attributes as service offerings, then it's likely you'll have access to them in GMB. Google has been rolling out a steady stream of updates to its GMB platform ever since the pandemic hit.
This is the second time new attributes have been added in less than a month.

Back in May, Google My Business added three new attributes to help restaurants highlight whether they're offering dine-in, takeout, or delivery services.
It may become important for businesses to highlight their maximum capacity as well. Then, searchers can use the in-store traffic estimates to gauge whether it's a good time to visit.

Attributes in a Google My Business profile let customers know what a place has to offer so they can make informed decisions about where to visit.
Google My Business attributes are visible to customers who look up a business in Google Search and Maps.
Some common attributes have traditionally been "WiFi," "outdoor seating," and things of that nature.
In the world we live in now, it's more helpful to know whether a business has curbside pickup than it is to know if they have outdoor seating, for example.
With some businesses now re-opening, it's also important to highlight whether a business has resumed its dine-in service or not.

Google has added the following attributes for restaurants to their Google My Business profiles, which appear in Search and Maps:

curbside pickup
no contact delivery
dine-in
In the pic below, how this new attributes look in the GMB panel when set-up: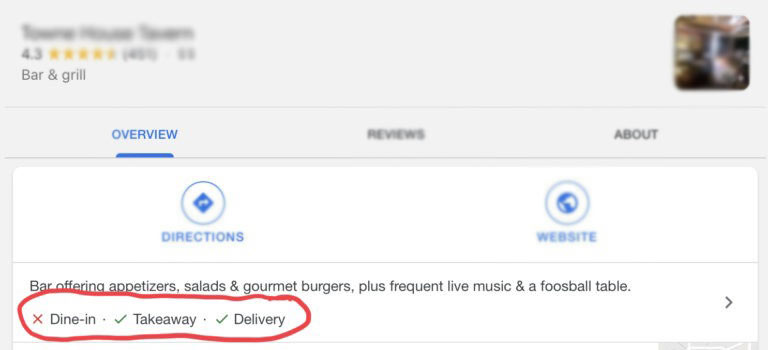 A special thank goes to Matt Southern.
This is his LimkedIn profile, if you want to follow him .
https://www.linkedin.com/in/mattgsouthern/