All economic activities need to be well publicized.
Everyone wants to see their logo stand out everywhere and around the world.

But everyone knows that it is not easy and above all it is certainly not cheap!

Sorry, it wasn't easy!
Now it is!

Really!
If you want to make your logo (or brand) stand out in every corner of the earth, you must know about and use the DPM Gift Card.

This intriguing card can ensure that your business' logo is present where there is business and brings you useful contacts!

And that's not all!
It can also convey this interest in your product or service directly in your contact methods: website, social page and app.

Let's see how to make the most of DPM Gift Card.

On the front a completely customized graphics.
(In the example below, to scale, next to a credit card)

On the back are the instructions on how to use it, available in 7 languages !
The QR-Code that allows the free use of the tool.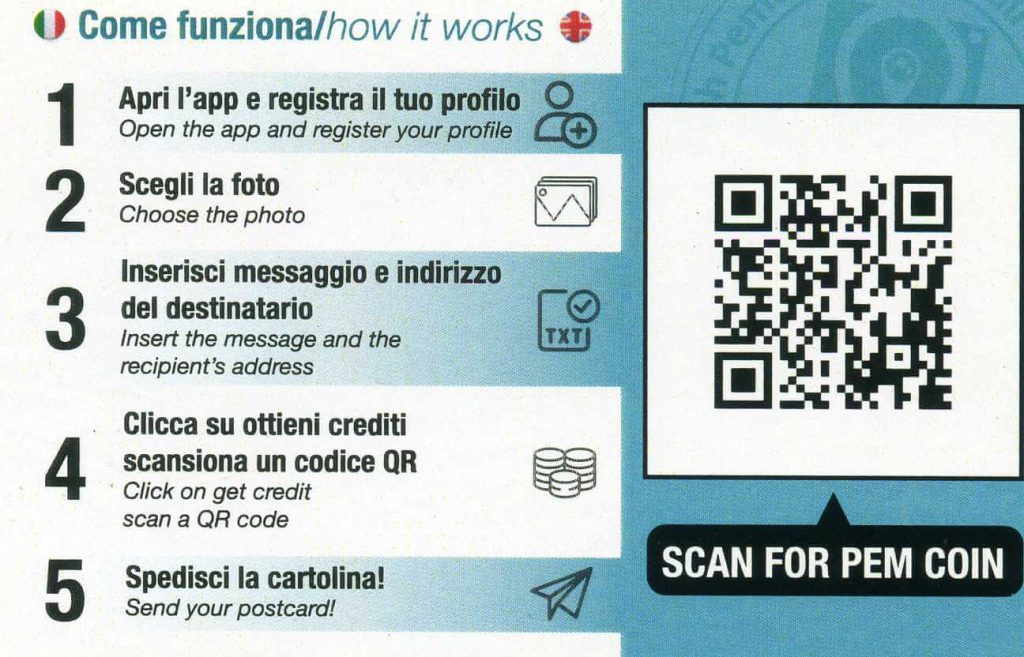 DPM Gift Card: first step.

Give the DPM Gift Card to your customers and / or suppliers.

They, using our App, completely free available both on the AppStore and Paly Store, by taking a photo with their device or by choosing one from the archive, will write a postcard with the message and the recipient's address.
DPM Gift Card: second step.
Then, by scanning the QR-Code, they will have the possibility to send 1, 3 or 5 postcards.
Obviously, in the case of multiple shipments, the procedure must be repeated.
These "credits" will have previously been purchased by you.
DPM Gift Card: final result.
The postcard will travel with 1 or 2 personalized banners with your logo/brand, depending on the set up you choose.
And that's not all!
This banner may also contain a Pay-off, a Call-to-Action or another Qr-Code.
Or your logo and 2 QR-codes.
Or other combinations of these elements.
(see below an example with our banners, and click on the image to go deeper about DPM!)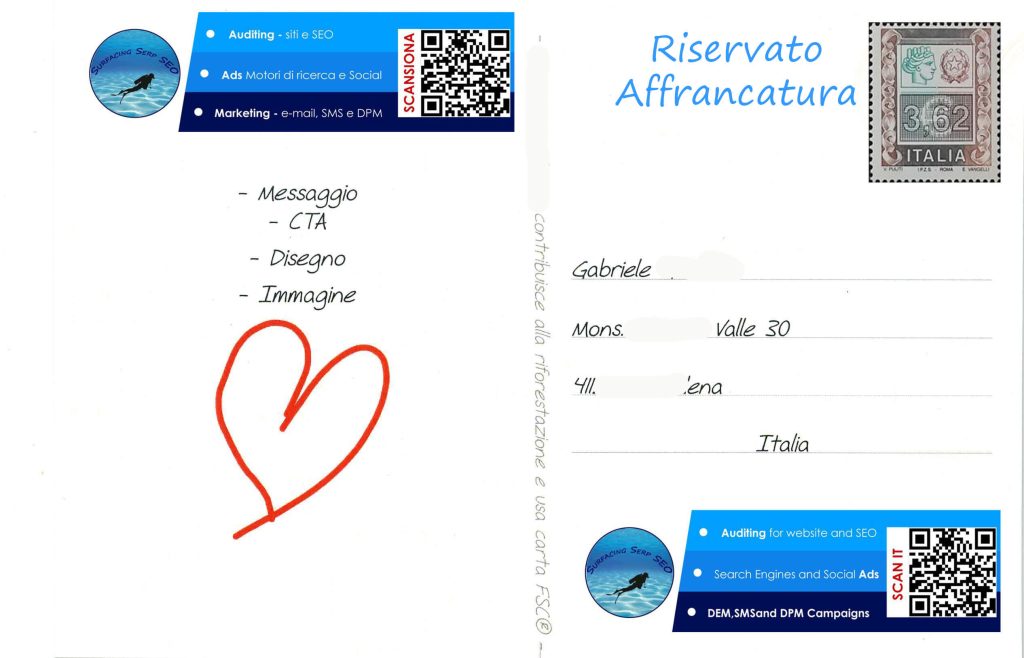 The function of the QR-Codes is to send the recipient, interested in by this solution, to the landing page you choose.

This could be:
– the "Contact us" page of your website;
– the most suitable Social page for your goal;
– the Store where they can download your App;
– your e-commerce page;
– the page of your site with a document ready for download;
and any other digital option!

All traceable and measurable for an easily assessable ROI!

What are you waiting for?
Contact us for a quote and start creating brand awareness using our DPM Gift Card!